Rye students can get a bite of Congo on campus at Congo Coffee and Mikate House
Written by Tiffany Mongu for The Eyeopener. Link to original article.
No matter the weather in downtown Toronto, Nia Bangala, owner of Congo Coffee and Mikate House, is committed to share a piece of Congo with her customers; through a sip or a tasty bite.
Located across the street from the Sheldon & Tracy Levy Student Learning Centre (SLC), the coffee shop's menu keeps people coming. 
As the season gets colder, students can grab a coffee and three beignets for $3.50, hot chocolate with beignets for $2.99 or a cappuccino or mocha with beignets for $3.99. If it's a sweet treat you're looking for, beignets come with vanilla ice cream for $5.50 or with whipped cream and strawberries for $4.50.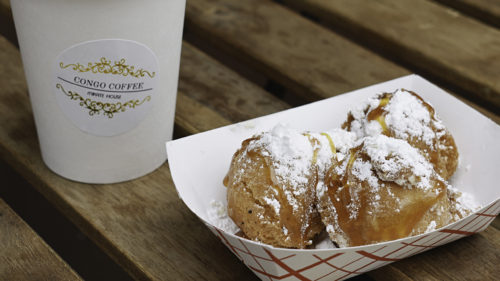 Lillie Qiu, a second-year journalism student at Ryerson, discovered the coffee shop during a hot summer day in mid-August; while in search of an iced coffee.
"I think it's more [of a] settled flavour which I like…it's refreshing and a nice change," said Qiu.
The shop's main attraction, described by Bangala as "addictive," are beignets, also known as the mikate (mee-cat-té), as they're called in the Democratic Republic of Congo (DRC).
The mikate is deep-fried, sweetened dough in the shape of a golf ball and cooks to a perfect, golden brown colour. To add finishing touches, it is always topped off New Orleans style with powdered sugar or your favourite topping; Nutella, peanut and caramel syrup or whipped cream.
It's more than a cup of coffee, this is an act of social justice
Bangala incorporates her roots in her business. She was inspired to name her shop "Congo Coffee and Mikate House" because the coffee beans are single-origin from the DRC. It is sourced from an island called Idjwi, in the Lake Kivu region, which is also a volcanic area where high-quality coffee beans come from. 
Bangala said her first concern was what to pair with her coffee to enhance the experience. "We wanted to stay true and pertain a certain heritage of breakfast culture [in the DRC] – which is a beignet and coffee." 
Bangala wanted to represent herself in the business name as well. "I am coffee coloured and for me…it was more of a statement. It represents me, it represents my soul desires and my ancestry, my heritage…Everything for me revolves around the Congo," said Bangala.
With an urgent desire to help the DRC and Congolese people flourish back home, Bangala's reason behind opening Congo Coffee was to earn proceeds to benefit her initiative, Coffee for Change, an organization that raises awareness of poverty and the need of proper economic development in the DRC. 
It's been reported by the International Rescue Committee, that 45,000 deaths occur monthly in the DRC as a result of the humanitarian crisis that began since 1998. 
As a result, Bangala launched Coffee For Change.
"I founded Coffee for Change to end poverty, foreign aid dependence, promote sustainable economic development," said Bangala in a tweet. "And most importantly, to have funds available when crisis hits the DRC." 
African Student's Association (ASA) vice-president, Estelle Ntusi, originally from the DRC, supports Bangala's business because she knows her homeland is benefitting from its earnings.
"I think the moment I realized that she had a coffee shop, honestly–I haven't had my Starbucks," said Ntusi. "I even deleted my Starbucks App because it's so important [for] me to know where my money is going."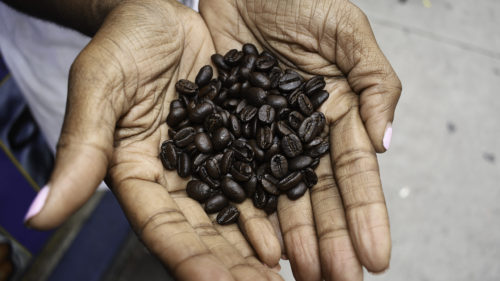 A physical representation of Africa on campus 
In Africa, there are alternate names for a beignet. In West African countries, it is called a "puff-puff." In Nigeria and Cameroon, "togbei" or "brofrot" in Ghana.
More than a coffee shop, Bangala tries to make her business a place where African students from Ryerson can feel a sense of community and union, just through the bite of a traditional beignet. 
"You can tell she's very keen on making familiarity between African diaspora and even people outside of it," said Ntusi. 
Percy Mpiana, president of ASA, also originally from the DRC, says he was stunned by the presence of Bangala's shop on campus, and is willing to help elevate her business as an association and individual.
"I drink Starbucks every now and then, but when it comes to supporting your own versus buying what's 'in the now', let me just support my own," said Mpiana. 
Bangala's shop not only connects with African students. Qiu said she has a positive feeling while purchasing.
"She tries to know her customers and the people that come by, so in that sense I really like it because [Nia doesn't] make you feel like you just come in, order something and go. You actually have a conversation, which is nice."
Bangala recognizes the positive effect she can have on Rye students and said she believes their consumer loyalty means success. "If you can't get on board with the [youth], you know…" said Bangala. "They are the ones that will either make or break you."